Flexlume's Best Building Signage Projects in Buffalo
Jim Boudreau
|
April 17, 2023
|
3 minute read
The Flexlume Sign Company of Buffalo, NY has a 100+ year history working with local businesses to create the best building signage and lighting to present their brands and their facilities. It's a fact that every commercial sign project is unique, but some of them are exquisitely extraordinary. The following represent three of our proudest achievements, and the challenges we overcame to produce flawless results for our clients.

Table of Contents
Merchants Insurance Group - Custom Blade Sign
The building for Merchants Insurance Group supports a 50-foot tall blade-style sign. This iconic sign was more than 40 years old, and was showing its age. Flexlume's on-site survey of the sign found corrosion in the sign frame itself and its mounting hardware, and the custom lettering was beginning to break apart. This made the project more complicated than a mere sign replacement.
On top of duplicating the look and feel of the original sign, the structural steel beneath the brick facade needed reinforcement and custom mounts installed. In order to maintain the look of the historic building, the facade's brick was repointed after the structural work was complete.
Due to its size, the sign needed to be created in sections, assembled on site, and fit perfectly onto the new supports. Safety was a major concern on this project, so Flexlume worked with local authorities to maintain traffic flow around the area, while keeping passersby protected from injuries. The project was completed in the summer of 2020 and is sure to remain a Buffalo landmark for decades to come.
Learn More: Merchants Insurance Success Story

Buffalo Bills - Highmark Stadium Rebrand
With a fresh 10-year agreement on the Buffalo Bills stadium naming rights, Flexlume was chosen as the preferred sign company to spearhead the project. In the design phase, we worked very closely with brand managers for both the Bills and Highmark Blue Cross Blue Shield of Western New York so that both organizations had equal prominence and visibility.
The main highlight of the project was a massive channel letter sign, which required a 100-foot-long installation pattern to ensure perfect placement of each letter, along with custom mounting to support it all. Beyond that, existing internal signs were removed while the stadium's surfaces were refinished. Many of those signs were reinstalled in new locations, which required new staging to mount them, and electrical supply lines to reach the new locations.
Significant project management was an absolute necessity for a project at this scale, which was absolutely worth it when looking at the final product. With the new naming rights agreed upon in March 2022, all of the stadium updates and rebranding were completed in time for the first exhibition game of the season on August 13th, securing its place on our list of the best building signage in Buffalo.
Learn More: Buffalo Bills Stadium Success Story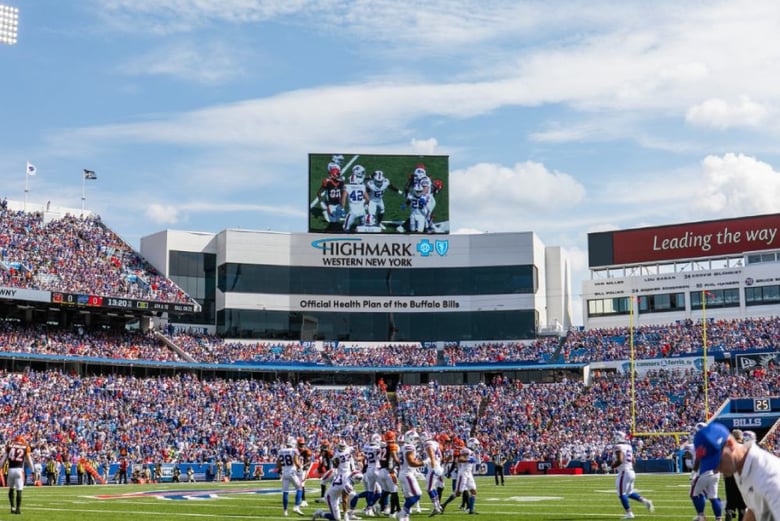 M&T Bank - Seneca One
The Seneca One complex consists of a 6-story base with a 40-story tower on top. After its completion, M&T Bank approached Flexlume to design, manufacture, and install a custom channel letter sign at the top of the tower on each of its faces. This meant creating 28 individual characters, each one up to 12 feet tall and weighing more than 800 pounds.
These massive letters needed to be sturdy enough to be hoisted up 40 floors, and endure the strong winds coming off Lake Erie. However, the building's window-washing/maintenance staging couldn't be blocked, which meant the sign could only be two inches deep. A combination of thick aluminum channels and specialized rigging equipment created the necessary rigidity. For added protection, each letter was coated with specialized paint to provide corrosion resistance for 10+ years.
Working closely with M&T Bank's brand managers, we developed a plan to meet the complex lighting needs for the signs. Each sign was individually controllable through a wireless system to highlight specific letters. The letters also needed multiple levels of dimming to adjust for changes in daylight. Hundreds of interconnected LEDs evenly distribute light throughout the signs, and at every stage of brightness.
Throughout the installation, from December 2020 to May 2021, there was no disruption to the daily operation of the building nor its tenants.
Success Stories: M&T Bank - Seneca One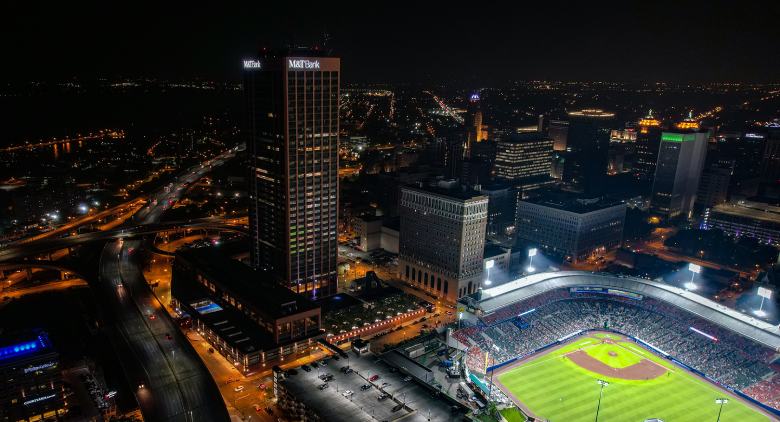 Discover the Difference With Flexlume
Flexlume's rich history and expertise as a national sign company have been instrumental in the successful completion of iconic projects in Buffalo, NY and across the nation. We are committed to providing innovative, durable, and visually stunning signage solutions. By overcoming various challenges, such as structural limitations, tight deadlines, and complex lighting needs, Flexlume has consistently delivered the best building signage with remarkable impact on the businesses that use them. Contact us today to discover how your signage project can be the next success story.