How Much does a Pylon Sign Cost?
Jim Boudreau
|
November 22, 2022
|
3 minute read
When you want to get people's attention from as far away as possible, a pylon sign is often the way to go. Sometimes called pole signs, these raise your message anywhere from 5 feet to100 feet or more in the air. Business owners can reach people a block away, or even a mile away for drivers on the highway.
The burning question for most people is how much it costs to create and install a pylon sign. The answer isn't so straightforward, with figures running anywhere from $8,000 to $200,000 and beyond. Why is there such a massive price window? Because there are a lot of factors involved and several factors to consider. Let's break down the critical components of pylon signs and how to figure out what you really need.
Pylon Sign Height
The height of your sign will have one of the largest effects on pricing. Taller signs require more raw materials (steel, concrete, electrical wiring, etc). Also, as signs get taller, their displays need to be larger in order to be readable. Larger signs and taller poles need much stronger structures and mounting to keep them upright and secure.
On the plus side, most businesses do not need a 100-foot pole sign. In fact, a sign that's too tall is basically invisible because people don't look that far up. So, your location and the vantage point of the sign will often affect just how high up your pylon should be.
Sign Dimensions
Prices are also affected by the width, height, and depth of your pole sign . As mentioned above, taller signs must also be larger, but shorter signs can have a wider variety of shapes and sizes. Trying to catch people's eyes from further away needs a larger sign, which also means more materials to create the display backer and to convey the message itself.
Some pylon signs are designed more vertically, with the display mounted between two poles instead of one large pole in the middle. These signs are less obtrusive, and can display more information about your business, or they can advertise multiple businesses located in the same lot. These may be more ideal as a beacon to let people know they've found the right place.
Display Type
Once you've decided to mount your sign on poles or pylons, you also need to choose how you plan on displaying your message. Here are a few options to consider.
Cabinet Sign
Cabinet signs are enclosed boxes with a front-lit display, usually made of acrylic. You can add a vinyl covering to the front that will boldly display your company name, logo, and anything else you want people to see. Another option is having a custom acrylic front face that gets evenly illuminated throughout.
Channel Letter Sign
Give your message weight and volume with channel letters. These three-dimensional letters, numbers, and logos can be installed with internal illumination that shines through the front, back, or both. With custom control of shape, size, and color, you can bring the vision of your brand to life.
Digital Signage
Imagine mounting a giant LED screen on a pole and casting your message to the world. Digital Message Centers offer exactly that capability. Update your message for events, special offers, and holidays. And add some animation to catch people's attention. These can be more expensive, but they definitely stand out.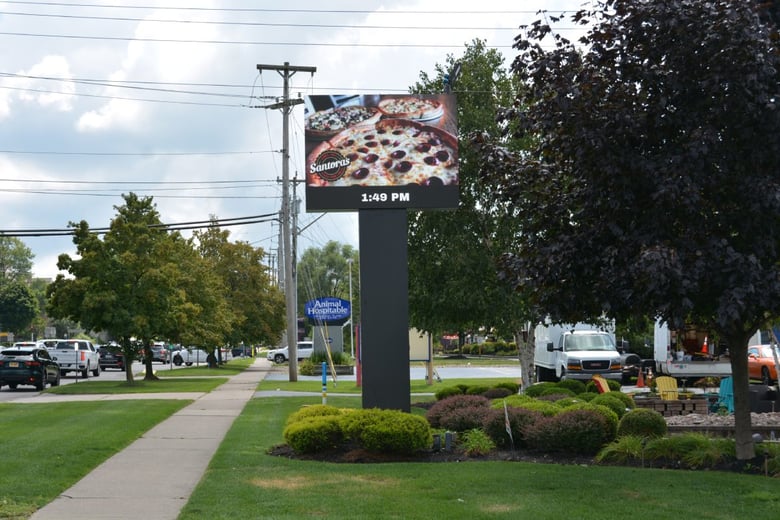 Lighting Options
Consider the purpose of your sign when deciding on how to light it up. Is your business open late? Are you trying to draw attention or simply give information? Different illumination options work best for different situations.
Internal Lighting
Signs with lights inside illuminate the face and glow at night. These are great for attracting attention, calling people to your business during late night hours. Restaurants and shopping centers often favor this kind of lighting. These lights can be strips of LEDs with 16 million color options. You can also opt for individual bulbs, or neon tubes. The type of lighting used can affect the total price of your sign.
External Lighting
Externally lit signs have lights that shine on the front of the sign, making it easier to read at night. This style works well for navigational signage, and for businesses that may close after dark, but not long into the night. These signs are perfectly visible, but more understated, which can better match the mood and image of the setting.
Unlit Signs
One way to reduce your pole sign cost is to skip lighting completely. There's no wiring, no electricity cost, and a much lower installation cost. If you want people to find your business during the day, but not so much at night, then this works perfectly. Also, if you are installing a sign in an area with plenty of industrial lighting, then it may not be necessary. Although most signs do better with lighting, it is not always a requirement.
How Can I Get More Detail?
Because so many factors affect the cost of pylon signs, it's impossible to get an accurate estimate without talking with a professional. They will know about the legal requirements and limitations for signs in your municipality, and they will know the current costs for materials and labor. Working with experienced experts like the staff at Flexlume is the best way to have the most accurate estimate on the process from start to finish.
Ready to chat with a signage specialist at Flexume? Contact us today!