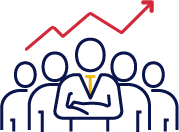 Business Owners & Leaders
Business owners and corporate typically bear the ultimate cost, if not also the risk of every decision made...particularly when brand equity and customer attraction are concerned...

Facilities & Operations
There is always "someone behind the curtain", that person charged with making sure everything works while remaining invisible to those impacted by their efforts...

Architects & Designers
For architects and designers every building is a work of art, potentially tarnished by something as ugly as a sign...making it ever more important that brands and messaging are incorporated elegantly...

Brand Managers
For a brand manager everything that affects the perception of a company is crucial, including and especially the "fuzzy stuff" that is difficult to quantify until people stop coming through the front door...
Successes
Please join us in celebrating a few of our customers' success stories.
Imagine how they might apply to the challenges your company is facing.