How Much Does a Channel Letter Sign Cost?
Jim Boudreau
|
November 1, 2022
|
3 minute read
There's no question that bold, well-produced signage will boost your branding and draw more people to your business. The real question is, after parts and labor, how much will a channel letter sign cost to get fabricated and installed? The short answer is that prices can range from $2,000 to $20,000 (or more), and it depends on quite a lot of factors. So let's review those factors which can impact your bottom line.
Channel Sign Dimensions
This is one of the most crucial considerations because the size of your sign will affect all of your material and labor costs. For your channel letters, pay attention to the height, width, and depth. Bigger letters are easier to see, but they need more raw materials to construct. They also need more lights per letter, more electrical wiring, and potentially additional power supplies.
The total length of your sign is also an important consideration. As length increases, mounting becomes more expensive. It will require longer raceways, more insertion points into the wall, and structural reinforcement to compensate for increased weight. You may also be subject to local sign code restrictions for size.
Logos and Special Designs
Including your logo on your sign can help visual recognition and brand reinforcement, adding to the sign's total effectiveness and value. These can affect prices because they will use several colors to produce, and illuminating these logos may require many more lights. Pricing logos is not as straightforward as letters, so be sure to discuss this when asking for a price quote.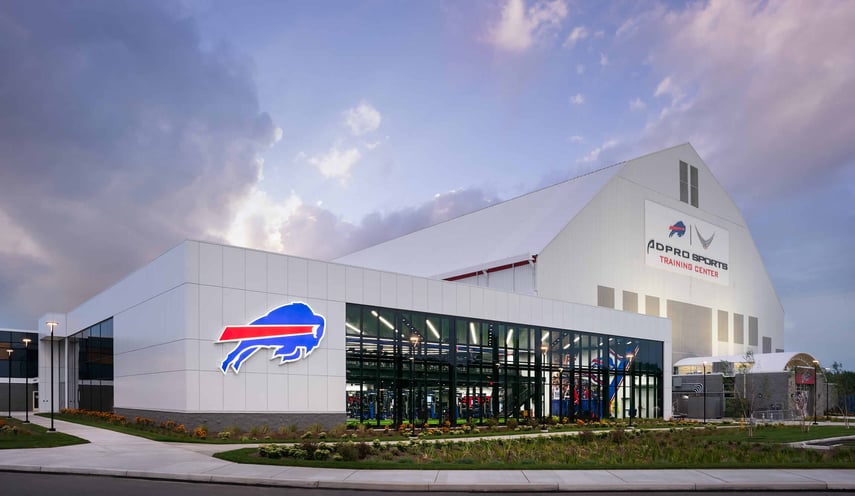 Channel Letter Body Materials
The channel letter body is usually made of rust-resistant aluminum, with the faces made of acrylic or polycarbonate. If you want to change the metals to stainless steel or brass, you can expect to see prices go up. Using thicker gauges of materials will add durability and longevity, which converts the extra cost into extra life-span.
You can also consider additional features, such as adding perforated vinyl to the letter faces. This will make them a more visible color during the day, but still allow for illumination at night.
Light Sources
As mentioned above, larger signs will need more empirical lighting sources and power supplies, but there's more involved. You can use neon (or neon-simulating LED) lighting to great effect, as long as it matches your business aesthetic.
Most people will opt for LED lights, as they are much more cost effective, and here you still have several options. You can choose to use individual LED bulbs (about 20 per letter) or LED strips for illumination. Standard LEDs give white light, but if you want specialty colors, RGB LED lights can offer a color palette of over 16 million hues and shades.
For all of the electrical work, you should also consider looking for UL Certification. Underwriter Laboratory (UL) offers international standards for safety, giving you confidence in the quality of the materials to work as designed and survive year-round exposure outside.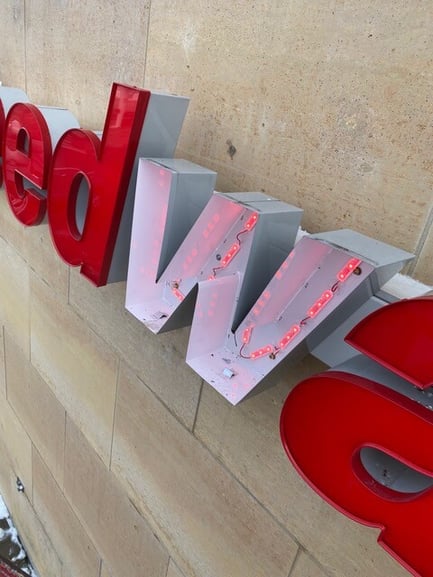 Mounting Method
Channel letter signs often use a "raceway" for mounting, which requires the fewest number of insertion points into the building facade. The letters attach to a rail called the raceway, which also holds the electrical wiring and secures the individual sign components.
If you want a cleaner look, you can go for flush mounting, in which each individual letter is attached to the wall. This will remove the raceway, but amount to additional materials and a more complicated sign installation.
Installation Impediments
In addition to the normal costs of installing a channel letter sign, there may be other factors affecting the price. For example, installing a sign on a very tall building will require lifts to gain access. If there are trees or other obstacles that obstruct access to the building or sign post, then they will add to the installation.
How Long Does the Process Take?
From initial contact to finished installation, there are over a dozen steps in the process, including initial design, applying for permits, production, and installation. Your approval is also a critical component throughout the project. As such, the timeline can go from several weeks to a few months.
Average Cost of Channel Letter Signs
Despite all of the factors affecting prices, many businesses do use fairly standard specifications. Often, the industry standard cost for basic channel letter signs is $4,000-$6,000. That being said, economics are not as stable as they used to be, and raw material prices can fluctuate significantly.
The best practice is to get itemized quotes from professional signage companies to understand where your money is going, and to best understand the current market rates for your area and your specific needs.
Ready to chat with a signage specialist at Flexume? Contact us today!