Back to Blog
Merchants Insurance - Custom Blade Sign
Jeremy Reynolds
|
June 19, 2020
|
2 minute read
Project Background
In 2019 Merchants Insurance Group's 40+ year old blade sign began to show signs of wear. The custom acrylic lettering was beginning to fracture, mounts and other materials were corroding and the structural supports were beginning to be questioned. Having worked with Flexlume for many years, the executives at Merchants reached out to identify the best means of replacing their historic sign with a durable, modern alternative that would maintain the iconic look that has come to identify their headquarters as a Buffalo landmark.
Challenges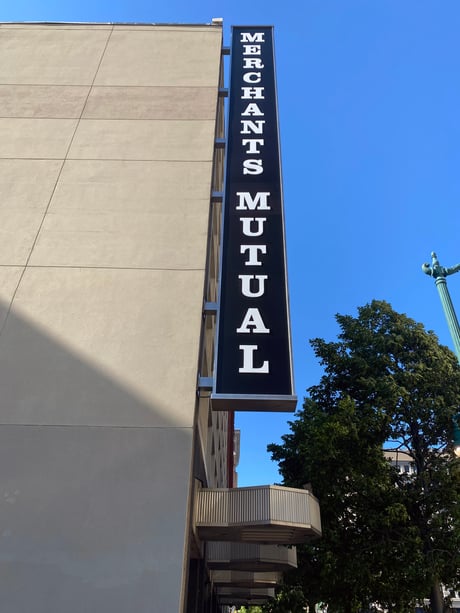 It is never simple to construct and install a sign that is 50' tall. The simple elegance of a sign like Merchant's blade sign is often rooted in invisible levels of complexity, something that was quickly revealed during the first survey. There was evidence of corrosion in the sign frame itself and its mounting hardware, and the custom lettering was beginning to break apart. More specific details:
The structural steel beneath the brick facade was compromised and in need of reinforcement.
The replacement blade sign needed to maintain the same look and feel of the sign that was being replaced, including its 2" thick custom illuminated letters.
The building's facade needed to be maintained within Buffalo's historic downtown Main Street neighborhood.
Safety challenges were many, from preventing injury or damage during the removal of the existing sign to shielding passersby from the sparks resulting from cutting torches and welding equipment.
Neighborhood traffic had to be managed in coordination with local authorities to minimize disruption while maximizing safety.
The 50' tall sign needed to be transported in sections, assembled in place and fit perfectly with the newly fabricated and installed structural supports.
Solution
Flexlume's ultimate signage solution involved much more than just the sign itself. It involved a comprehensive plan to manufacture a sign that satisfied the client's aesthetic and historical requirements, aligned with the updated structural supports and could be managed safely and efficiently from the first weld to the final installation & cleanup.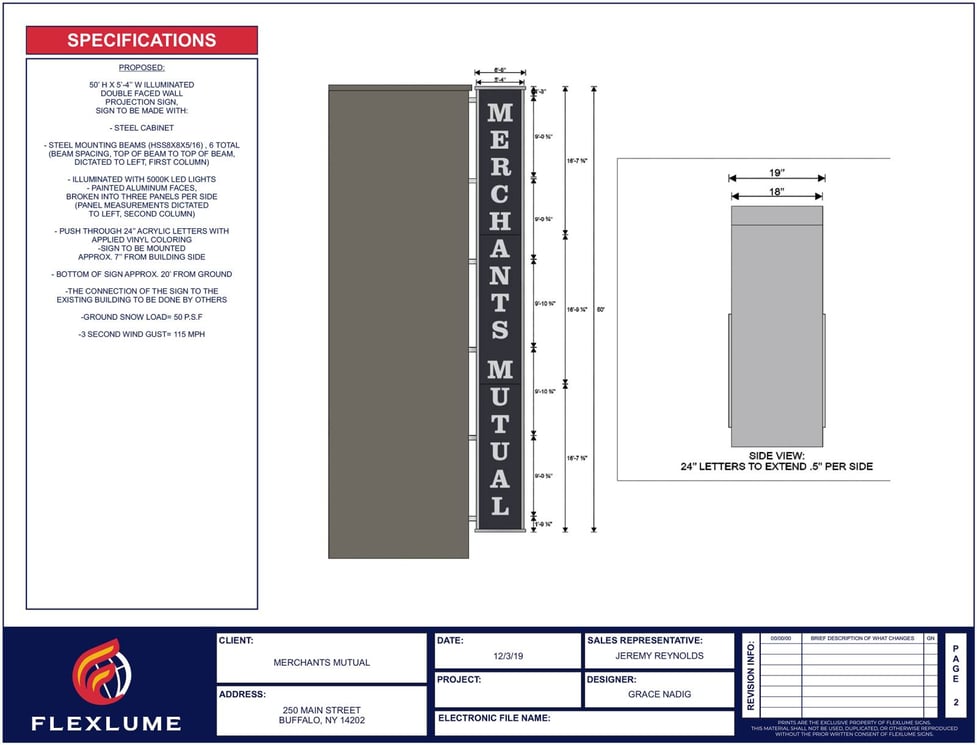 The overall signage solution included:
A custom 50' tall blade sign constructed in sections to facilitate transport and installation.
2" thick custom routed acrylic letters to project from the face similarly to the original 1970's era blade sign.
Modern LED lighting components and power supplies to provide visibility up and down Main Street Buffalo.
Removal of the surface brick, reinforcement of the buildings structural steel, addition of custom mounts and repointing of the facade's brick to restore the original look.
A safety & logistics plan to ensure a smooth, safe and efficient replacement of the signage.
Outcome
The new signage was completed and installed in the summer of 2020 with minimal impact to the neighborhood, while ensuring that the sign and its supporting structure would remain a Buffalo landmark for decades to come.

On March 5, 1918, Merchants Mutual Liability Company opened for business. It was founded by Urban F. Jehle, owner and operator of a grocery store on Buffalo's West Side. He returned from a grocers' convention with the idea of banding merchants together for the mutual protection of their delivery vehicles. J.R. Young, a local insurance man, Owen B. Augspurger, a Buffalo lawyer, and C.W. Brown, a civil engineer, joined with him. They envisioned a company that would write automobile insurance through local independent agents. Mr. Jehle served as president of the company until 1923.

Throughout the years, the company has grown and changed, bringing technology and quality products and services to their agents, their policyholders and their communities.