Back to Blog
Buffalo Bills Highmark Stadium Rebrand
Curtis Martin
|
July 29, 2022
|
2 minute read
Project Background
March of 2022 saw the Buffalo Bills reach a 10-year agreement for its stadium naming rights with health insurer Highmark Blue Cross Blue Shield of Western New York. The 48-year-old stadium located in Orchard Park originally was called Rich Stadium, changing its name to Ralph Wilson Stadium from 1998 to 2015 until New Era bought the naming rights in 2016. The agreement made it necessary to change a broad range of signage in and around the stadium in preparation for the Bills 2022 NFL season.
Challenges
The coordination of so many different signs, each with their individual complexities, had to be aligned not only with the branding and presence of the Buffalo Bills logo, but also with the marketing goals of their new sponsor, Highmark Blue Cross Blue Shield of Western New York. This necessitated multiple rounds of renderings to determine the ideal placement and scale, and to ensure that each brand was properly and prominently presented. A few other specific challenges:
Existing Buffalo Bills logo signage had to be safely removed and stored while many of the stadium's surfaces were refinished, before they could be reinstalled in their new locations.
The visibility of both brands had to remain consistent, with neither overpowering the other, both during the day and at night.
Multiple electrical supply lines had to be moved to accommodate new signs and locations.
The interior stadium signage required custom staging to accommodate the signage locations above multi-tiered seating levels.
Patterns as large as 100' long were required to ensure accurate placement of an extensive list if individual channel letters signs.
Everything had to be installed before the start of the Bills first home game.
Solution
The proposed solution required as much if not more project management than innovation in the signage design, manufacture and installation. Some specific elements of their overall solution:
Highmark letters were made with black perforated vinyl to provide a "blackish" color during the day and white at night for the interior and white 3/16" acrylic faces for the exterior sets.
Custom mounts were created to ensure both logos maintained equivalent depth on the exterior towers, working around a center column projecting from the tower face.
Installation patterns were printed on continuous rolls to ensure proper spacing and alignment of all lettering and logos.
A detailed project plan was developed in coordination with all other subcontractors to ensure that no time was missed while balancing the objectives of the resurfacing team, electricians, etc.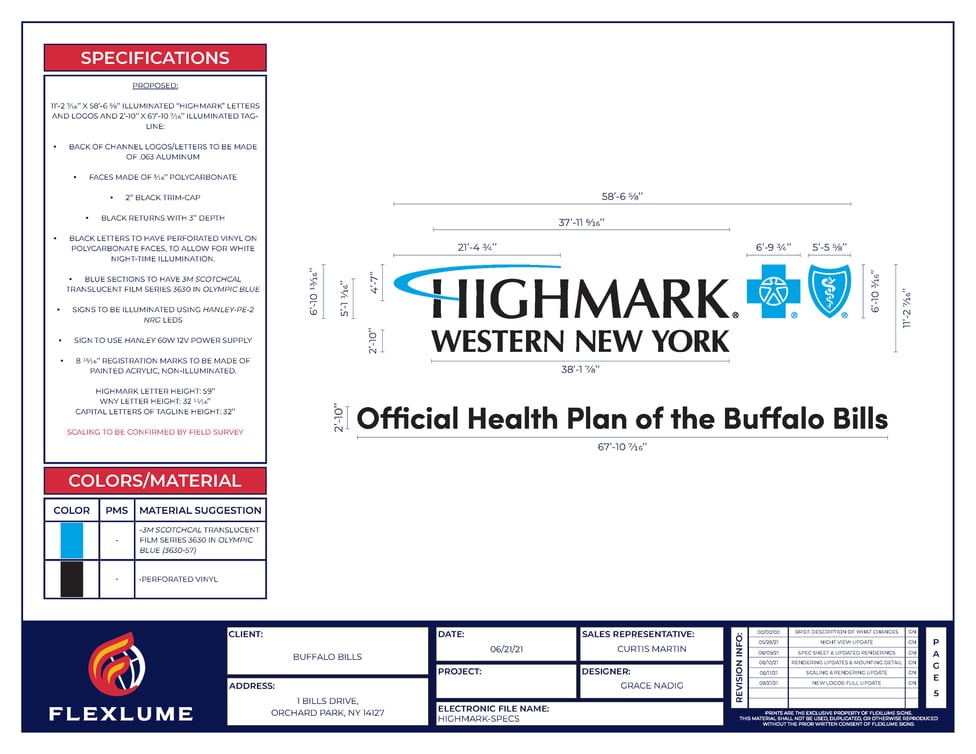 Outcome
All of the stadium updates and rebranding was completed on time and on budget, presenting Highmark's brand to all visitors during the first exhibition game of the 2022 season on August 13th (the Bills beat the Indianapolis Colts 27-24).