Back to Blog
M&T Bank - Seneca One
Curtis Martin
|
July 30, 2021
|
3 minute read
Project Background
In April 2021, M&T Bank debuted its Tech Hub at Seneca One, marking the completion of construction at the now-transformed skyscraper, the tallest privately-owned building in the state outside of New York City. The 330,000-square foot space is poised to become a driving force for the city's growing tech ecosystem and considered by collective leaders to be an asset for the entire community.
The importance of the project necessitated a compelling and visible M&T Bank sign atop Seneca One —a project Flexlume was beyond proud to undertake.
Challenges
As anyone can imagine, it is no small feat to place lighted signage atop a 40-story building. This project presented an assortment of additional challenges, requiring not only a creative solution, but a substantial and experienced team to bring it to completion. Some of the more outstanding challenges included:
Seneca One is really two distinct structures, the 6 story base and the 40 story tower, the former having a more expansive footprint.
Any signage placed on the top/sides of Seneca One could be no thicker than 2" otherwise it would prevent access to the building's resident window-washing/maintenance staging.
Each of 28 individual letters and characters making up the signage needed to stand up to the strong winds coming off Lake Erie, not to mention the process of hoisting them into place and securing them. Each letter/ character is up to 12' tall, weighing up to 800 pounds.
The installation of the signage could not disrupt the daily operation of the building nor its tenants.
The lighting within each sign needed to be individually controllable remotely to allow for specific letters to be highlighted, as well as to be adjusted regularly for changes in available daylight.
Solution
Flexlume partnered with Premiere Sign Systems of Buffalo to manufacture a series of custom 2" deep channel letter signs, powered by a wireless remote control system from Lutron. These letters were individually installed on the 4 sides of Seneca One using specialized rigging equipment and staging to account for the heavy winds coming off Lake Erie.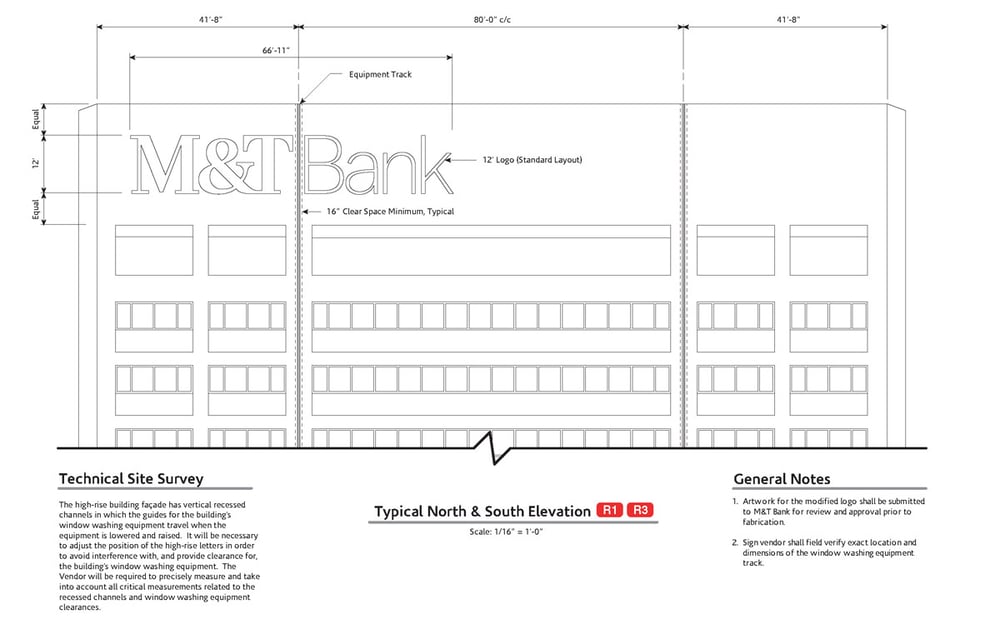 Other key elements of the solution included:
Each letter was specially constructed with thick aluminum channels to provide extra rigidity to support both handling and the stresses of operation atop a 40 story building. Each letter was individually coated with specialized paint designed to provide corrosion resistance for beyond 10 years.
Sloan LEDs were selected for their brightness, durability and multi-step dimming capability. Hundreds of interconnected LEDs were arranged strategically throughout each letter to maximize brightness without any "hotspots". The LEDs were powered by Lutron Powerpaks to integrate with their wireless remote control system.
Letters were individually hoisted into position, first from the ground to the 6th story roof and then to the 40th story facade where they were mounted with hardware designed to withstand the stresses of the weight of each sign and the wind they would face on a daily basis.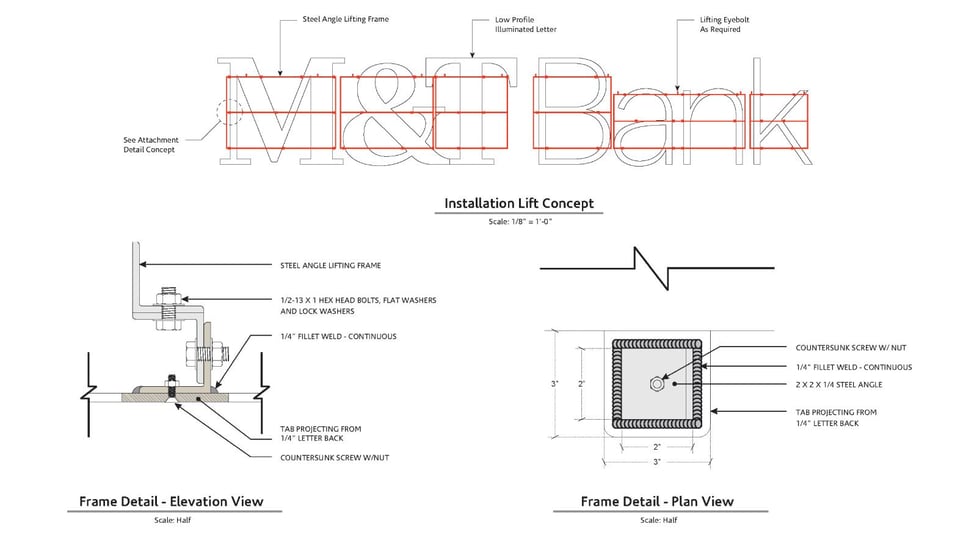 Outcome
Despite challenges with weather and complicated power requirements, the installation and lighting of each facing of the building began on schedule in December , 2020 and was completed in May, 2021. Each of the M&T Bank letter sets is visible from miles away across the Buffalo, NY skyline, with each letter dimmed to a custom brightness to provide just the right emphasis to

M

&

T

.
Testimonial
"We knew there would be challenges associated with the new signage we were planning for Seneca One. It wasn't just a matter of the height of the building or the wind coming off Lake Erie, both of which made this a challenging installation. We also needed customized illumination settings and thickness to accommodate the building's unique design. We were very happy to have found Flexlume, a local company, was more than up to the challenge. They were a true partner, working through difficult weather on a challenging timetable, owning our goals as their own. Giving business to a valued commercial banking customer made working with them that much more rewarding." Fred Krajacic - Group Vice President, M&T Bank
M&T Bank Corporation is a financial holding company headquartered in Buffalo, New York. M&T's principal banking subsidiary, M&T Bank, operates banking offices in New York, Maryland, New Jersey, Pennsylvania, Delaware, Connecticut, Virginia, West Virginia and the District of Columbia. Trust-related services are provided by M&T's Wilmington Trust-affiliated companies and by M&T Bank. © 2019 M&T Bank. Member FDIC.s.