Key Concepts in Choosing Types of Commercial Lighting Fixtures
Curtis Martin
|
July 3, 2023
|
2 minute read
Exterior commercial lighting is diverse and complex, catering to various needs, from the sprawling expanse of parking lots to the concentrated intensity of under-canopy lighting at gas stations. In order to choose the correct solution, commercial lighting companies consider five key functional elements that are universally critical to success in outdoor lighting projects.
Here, we shine a spotlight on these five key concepts that will help you choose the perfect lighting solution for your situation. These considerations serve as the guiding principles for designing a professional, cost-effective, and impactful lighting scheme that not only meets regulatory and operational requirements but also adds aesthetic value to your commercial facility.
1. Light Intensity and Distribution
The brightness and spread of your lighting play a vital role in creating a safe and welcoming environment. Particularly in areas like walkways, parking lots and gas stations, adequate lighting can prevent accidents and deter unwanted activities. It helps create an environment where your customers feel safe, no matter what time they visit.

A commercial lighting company like Flexlume can help assess your needs and create a customized lighting plan. Our solutions ensure optimal light intensity and distribution, tailored to your specific outdoor space, keeping safety and customer comfort as top priorities.
2. Energy Efficiency
In the realm of commercial lighting, energy consumption is a significant factor to consider. Efficient lighting fixtures can drastically reduce your energy costs and contribute positively to the environment. For example, LED lights can consume up to 90% less power than traditional incandescent bulbs, making them an excellent choice for large-scale exterior lighting.

At Flexlume, we understand the importance of energy efficiency. Our team will recommend the most efficient lighting fixtures that fit your needs, helping you lower your operational costs and reduce your carbon footprint.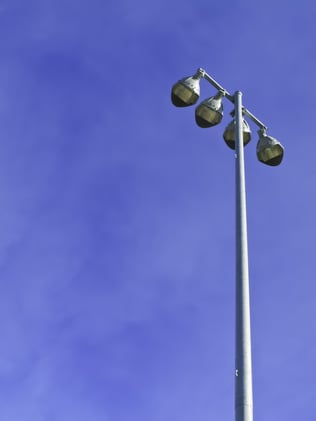 3. Durability and Maintenance
All types of commercial lighting fixtures located outdoors need to withstand the test of time and weather. Durable lights not only reduce the need for frequent replacements but also cut down on maintenance costs. From weather-resistant fixtures to vandal-proof designs, there's a lot to consider when choosing durable lighting.

One way that Flexlume stands out among top national sign companies is providing durable and low-maintenance lighting solutions. Our expert team will guide you to fixtures designed to stand strong amidst harsh weather conditions and potential vandalism, ensuring long-lasting illumination for your premises.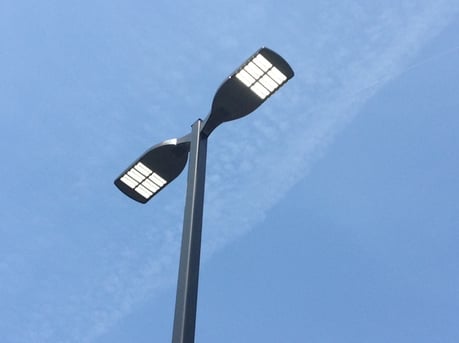 4. Compliance with Local Regulations
Different regions have their own particular regulations concerning exterior lighting. These rules can address issues from light pollution to safety standards, and it's essential to understand and follow these regulations when installing your commercial lighting fixtures.

Flexlume is an ideal commercial lighting company because of our extensive experience and knowledge of local and national lighting regulations. We ensure our clients achieve full compliance while fulfilling their vision for their exterior lighting, striking the right balance between regulatory requirements and aesthetic goals.
5. Aesthetic Appeal
Lighting is not just a functional requirement; it contributes significantly to the overall aesthetic of your premises. The right lighting fixtures can accentuate your architectural features, enhance your signage, and solidify your brand image in the eyes of your customers.

At Flexlume, we're not just about brightening up spaces; we're about creating visually captivating experiences. We strive to provide the ideal types of commercial lighting fixtures that not only meet practical needs, but also improve brand identity with a memorable and attractive exterior.
Read More: Types of Channel Letter Signs - Lighting, Mounting, & Material Options
How Flexlume Can Illuminate Your Business
When you entrust your commercial lighting needs to our experienced and dedicated team, you gain access to bespoke solutions to your unique requirements. With our extensive knowledge and innovative approaches, we go beyond just fulfilling your lighting needs - we create an illuminating experience that is as unique as your brand.

Flexlume's vertical integration model and national footprint makes us far more than a commercial lighting company - we provide comprehensive solutions for all aspects of commercial signage and lighting. From the initial design concept to production, from professional installation to ongoing maintenance, we provide seamless services that guarantee peace of mind. Whether you're brimming with queries or eager to kickstart your project, you can contact our team today - we're ready to assist you every step of the way.

At Flexlume, we don't just light up your business—we illuminate your brand.