Back to Blog
Zippo Lighter / Case Knives
Curtis Martin
|
June 4, 2022
|
2 minute read
Project Background
Zippo Lighter has been one of the world's most iconic brands for more than 90 years. While planning for their June 2022 90th anniversary ceremony the company's leaders decided that it was time to refresh the equally iconic signs at their corporate headquarters and the Zippo/Case Museum & Flagship Store in Bancroft, Pennsylvania. Having designed, manufactured and installed their current signage in the 1990's everyone at Flexlume was excited to continue to play a small part in such a proud history.
Challenges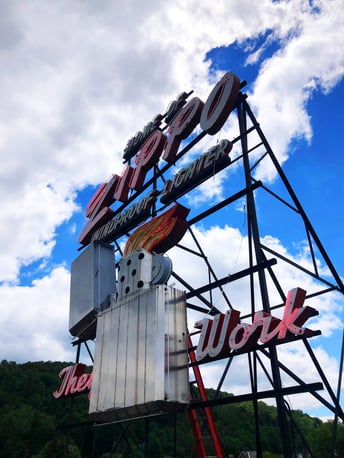 The challenges in this project were extensive, none greater than maintaining the image of a brand with such a storied history. It would take a good deal of creativity and state-of-the-art technology to replicate what was equally bold and innovative some 30 years ago.
Complicating this further was the shear scale of the project with the company's highway sign alone aiming for a scale of 30' wide by 20' high. In addition to the project's scale, the Flexlume team also had to overcome the following challenges:
Replacing extensive neon signage with LED signage that not only simulated neon in look and color tones, but replicated the bottom-to-top illumination effect that simulated the flame of an actual lighter.
Producing, transporting and installing signage weighting over 7,000 pounds onto poles over 40 feet in height.
Creating illumination levels that would project effectively to each audience in both the town and along the highway.
Completing multiple, fully custom signs and getting them installed in time to celebrate Zippo's 90th anniversary on June 11, 2022.
Solution
Flexlume chose to approach each different sign individually as they each represented different parts of the company's brand "puzzle", each of which had to be able to stand on it's own while complimenting the sum of the parts.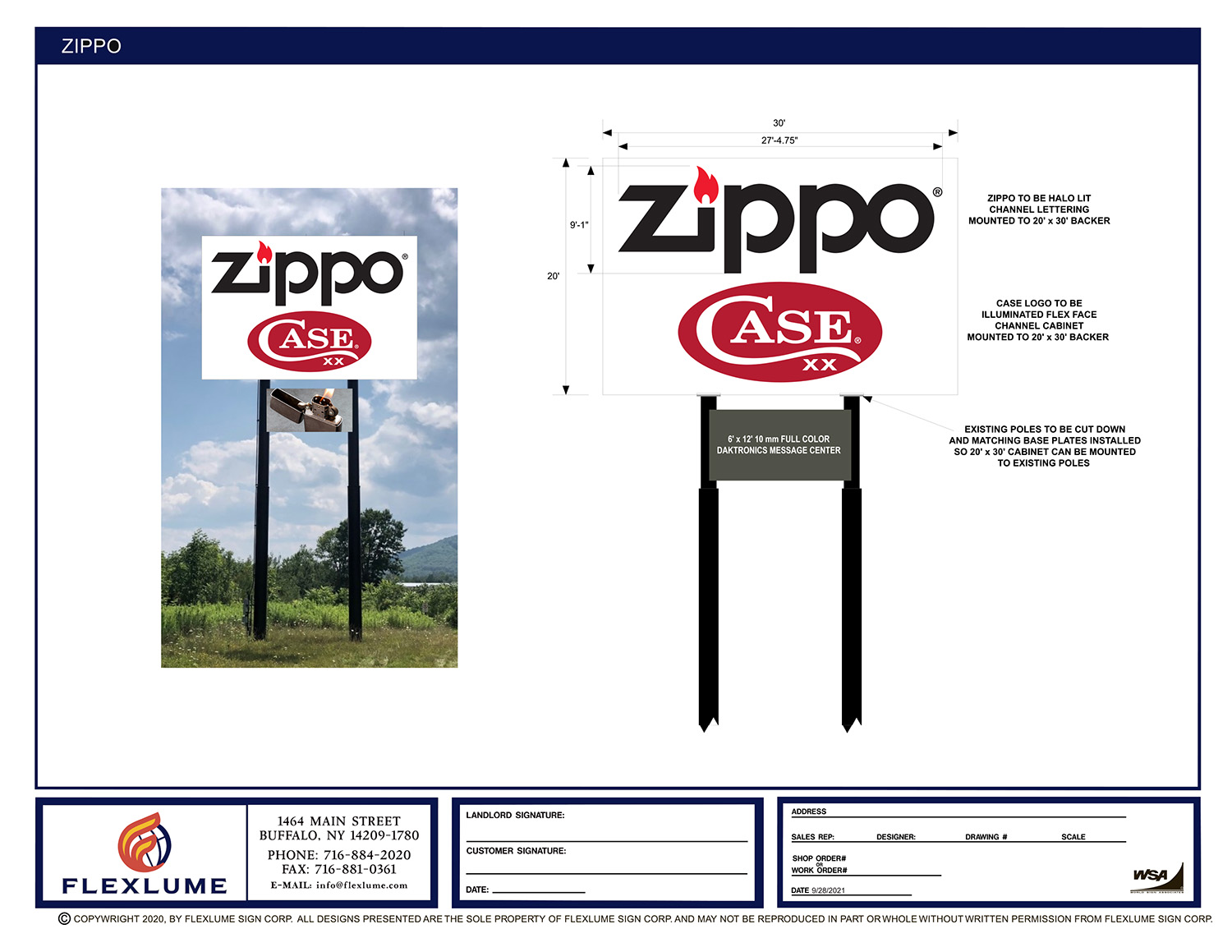 The overall signage solution included:
A Zippo / Case highway pole sign with an overall height of 55', 20' of which represented the height of the sign. Each brand was represented on it's own 10' high, 30' wide sub-section, assembled on site and lifted by crane into position. Beneath the main sign was placed a 12'x6' Daktronics digital message center to allow for timely presentation of Zippo / Case news and events.
Custom Kali letter components which provide both structural strength and simulated neon glow. Custom control circuits simulate the flame effect previously done with neon.
Custom fabricated frames, shells and lighting to replicate a classic zippo lighter on a grand scale, as well as their many other graphic elements and text.
Outcome
The major components of this project, from the simulated neon lighter at Zippo Museum to the pole sign with message center along Highway 219 were completed in time for the company's 90th Anniversary celebration, which was, by all accounts, a great success for both Zippo and the Bancroft, PA community!

The history of Zippo Manufacturing Company is the story of its people. From its founder George G. Blaisdell, to the many Zippo employees, customers, and collectors who have all played a vital role in the company's rich history. Their loyalty and dedication has made Zippo one of America's greatest and most recognizable icons..