Back to Blog
Wellness Park Pharmacy
Jeremy Reynolds
|
March 15, 2019
|
1 minute read
Project Background
With the advent of the 2019 new year the owners of Wellness Park Pharmacy began a rebranding effort to promote a series of new product offerings, as well as to highlight promotions to the local community. This rebranding effort included a new logo and necessitated new signage with digital messaging capabilities.
Challenges
There were a number of issues facing the team with this project:
The Pharmacy is located in a downtown neighborhood with limitations for signage footprints.
The existing signage needed to be removed without damaging the classic brick facade
The client wanted to maximize the size of a digital message center while establishing a substantial presence for their new logo.
Solution
Flexlume partnered with Cirrus to incorporate a 9mm digital message center into the center of a custom cabinet blade sign. The cabinet featured custom routed openings allowing lit custom vinyl panels to show through, projecting their logo up and down Buffalo Avenue.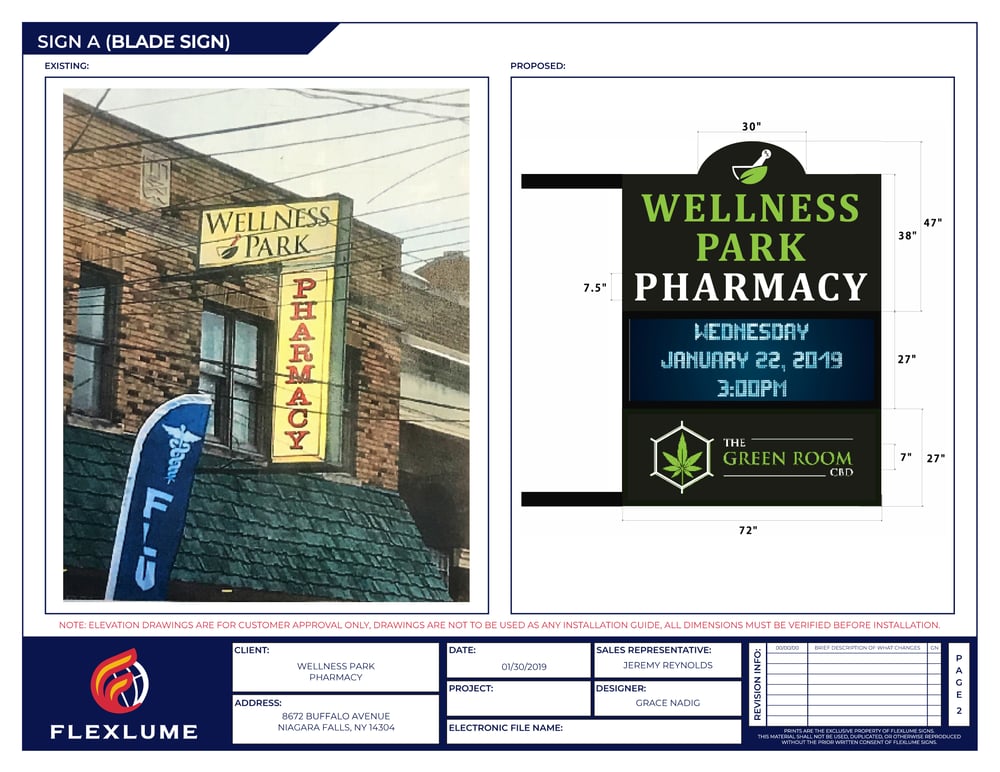 Outcome
The custom sign was completed on time and on budget, and continues to help Wellness Park Pharmacy to introduce themselves, their product offerings and promotions to the many passersby and residents of Buffalo Avenue.
Wellness Park Pharmacy has been serving the community of Niagara Falls since 2017. Being a community staple, they've proudly taken on the role of improving Niagara Falls's health care by providing fast and personalized service. They strive to make every customer experience a great one. At their pharmacy, they view your family is their family. Their friendly staff is dedicated to ensuring that you receive expert care on every visit.