Back to Blog
Buffalo Bills Training Center Expansion
Curtis Martin
|
July 19, 2019
|
1 minute read
Project Background
ARC Building Partners was contracted to renovate the ADPRO Sports Performance and Science Addition for the Buffalo Bills. Flexlume was in turn contracted to manage the design, engineering, manufacture and installation of signage for this marquis facility, all of which needed to be completed by July 2019.
Challenges
Time was an issue with this project as OTA's for the Buffalo Bills scheduled to begin in April. The entire interior construction, finish work and signage had to be completed in order for the Bills' players to be able to use the weight room and therapy equipment. Further complicating this project was the sheer volume of individual signs and components.
Solution
The proposed solution included a combination of exterior and interior signage:
Customer Buffalo Bills logo signs including a 28' long seamless logo on the front of the training center.
Pin letters highlighting different slogans and identifying the various facilities within the training center.
Various channel letters signs identifying the facility's sponsors
Wall mount and cabinet signs.
A range of interior signs including ADA graphics & signs, vinyl interior letters and logos
A custom illuminate Buffalo Bills logo hanging over the front entryway.
Acrylic panels, ACM panels and other wall graphics throughout the facility.
Flexlume chose to approach each different sign individually as they each represented different parts of the company's brand "puzzle", each of which had to be able to stand on it's own while complimenting the sum of the parts. Flexlume's custom project management software was used to coordinate all of the design, sourcing, manufacturing and installation. Everyone on the project team put in the time and effort that was necessary to ensure that the project was completed on time for both the Buffalo Bills and ARC Building Partners.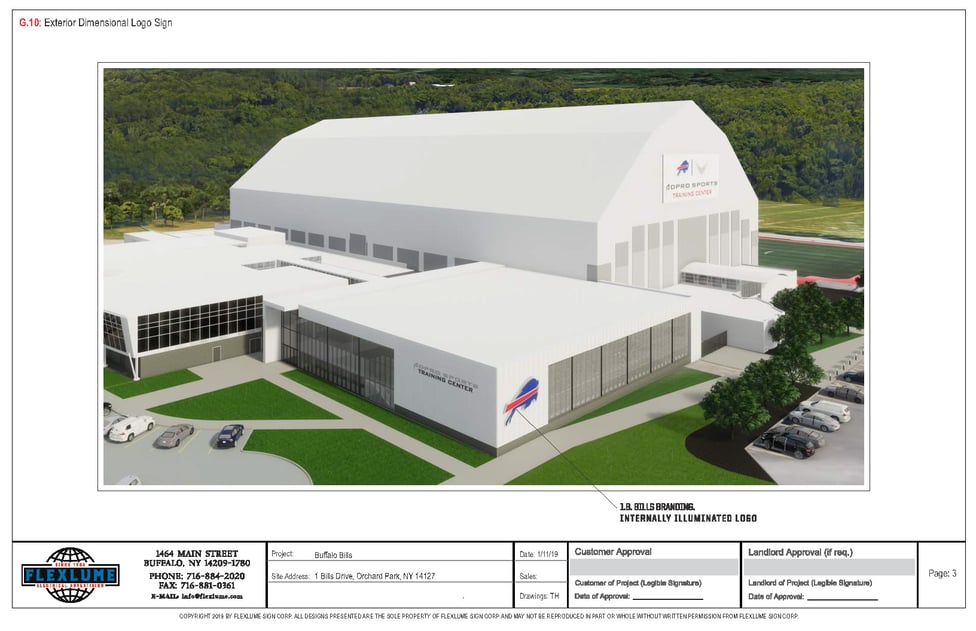 Outcome
Buffalo Bills ADPRO training facility is now considered one of the top sports training centers in the world thanks to their recent expansion project. We're very grateful to be apart of a unique project. The innovate solutions and craftsmanship deployed in this design resulted in a nomination for the WSA's sign concept of the year, winning the 2019 WSA 'Trick of the Trade' Award - East Region for most innovative concept.

Testimonial
"It was a pleasure working with both the Project Management Staff and Field Staff of Flexlume. I would for sure push to use their services on future Graphics and Signage Packages. Flexlume was responsive in answering any questions or concerns that I had regarding the project"
Todd Craci, ARC Building Partners.